<! Cover image goes here >

This early chapter book tells the story of a girl who finds a dinosaur when she goes outside to play.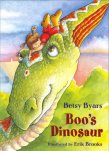 Usually I don't get to see the illustrations for one of my books until the book is printed. So that's always an exciting moment. With "Boo's Dinosaur"; it was more wonderful than usual because I LOVED the illustrations. When I saw the picture of Boo meeting her huge, kooky, ready-for-fun dinosaur, I was as thrilled as she was.