<! Cover image goes here >


<! Replace the XXX's with the text of the plot> Birch encourages her grandfather to fulfill his lifelong dream of flying his Piper cub from South Carolina to California and then tells him she's going along.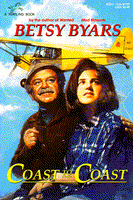 <! Replace the XXX's with the text of betsy says> My husband Ed and I took the trip that Birch and her grandfather took. Ed has a 1940 J-3 Cub just like that. During the trip I kept a notebook on my lap and wrote down everything we saw and said. Everything that happened to Birch and Pop happened to us. We landed on an access road, we landed on a race track (fortunately no race was going on at the time). We also took our dog.
The whole trip out and back took us 16 days - 46 stops. The J-3 only holds 12 gallons of gas - that's about two hours of flying. Happy landings!