<! Cover image goes here >


<! Replace the XXX's with the text of the plot> Three kids in a foster home learn to care about each other and themselves.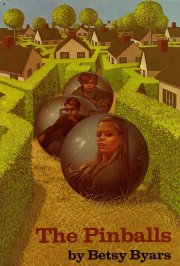 <! Replace the XXX's with the text of betsy says> I loved writing this book because I cared so much about Carlie, Harvey and Thomas J. Also, the three character book is my favorite kind of book to write. I've done maybe six three character books, but this is the first time I didn't have a favorite.
I've had more letters about The Pinballs than any book I've ever written, and almost all of them want a sequel. Some readers have gotten tired of waiting and written sequels of their own.
The one thing I do know about Carlie and Harvey and Thomas J is they kept in touch for the rest of their lives and looked back fondly on the year they were Pinballs together.